Charitable Remainder Trusts vs. The Pooled Income Fund – An Explanation of the Advantages and Challenges of Each
Date:
Wednesday, November 16, 2016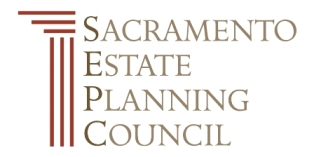 Please adhere to the Sutter Club's Dress Code: Gentlemen guests are encouraged to wear coat and tie. Ladies should wear comparable attire. Jeans, T-shirts, and shorts are never permitted.
November Meeting
Sutter Club, Califoria Room
1220 Ninth Street

Agenda:
Registration/Cocktails: 5:00 p.m.
Meeting/Dinner: 5:45 p.m.
Presentation: 6:30 p.m. - 7:30 p.m.
Cost:
Please note the cost of the monthly SEPC meetings.
Members: $65 (registration at the door is $80)
Non-Members (must be hosted by a member to attend): $80
Drink Tickets: $8 each (PLEASE NOTE THAT IF YOU ARE DRINKING SODA YOU DO NOT NEED TO PURCHASE A DRINK TICKET. THESE ARE COMPLIMENTARY.)
Walk-ins (Members and Non-Members) that have not registered online will be charged $80 (with entrée limited to standard vegetarian option).

Registration will close on Monday, November 14 at 5pm
Refund Policy: Sacramento Estate Planning Council has a 48 hour cancellation policy for meeting events.

Charitable Remainder Trusts vs. The Pooled Income Fund – An Explanation of the Advantages, Pros and Cons of Each
Speaker: Randy Fox - EzCharitable, LLC

Summary: Practitioners are often more aware of the use of Charitable Remainder Trusts for charitable planning. Pooled Income funds have been around for many years, but are often now overlooked as a planning alternative. Mr. Fox will compare and contrast charitable remainder trusts with the "young" pooled income funds and will explain the pros and cons of using either in a variety of circumstances.
Bio: A third-generation entrepreneur, Randy is a founder of EzCharitable, LLC, an online training resource for professional advisors who wish to expand their capabilities in philanthropic giving. EzCharitable has created original content that is useful for attorneys, financial advisors, CPAs all of which will facilitate better philanthropic advice for families of wealth. He is also currently the Editor in Chief of Planned Giving Design Center, a national newsletter for philanthropic advisors. In 2015 Randy was awarded the Fithian Leadership Award by the International Association of Advisors in Philanthropy.
Randy was a founding principal of InKnowVision, LLC, a national consulting and marketing firm that developed estate and wealth transfer designs for clients of exceptional wealth. During his tenure, more than three hundred families were served and more than $500 million was directed to philanthropic purposes. He served as director and faculty member of the InKnowVision Institute, which provided professional advisors with the advanced technical and interpersonal tools required to attract and work successfully with high net worth clients.ation coming soon!
Menu
Soup
Chef's Soup du Jour

Main Courses
Crown Roast of Berkshire Pork with Sweet Potato Gratin and Red Currant Jus
Pan Roasted Sea Bass, Caramelized Onions, Horseradish Cream, Whipped Potatoes
Grilled Portabella Mushroom and Vegetable Stack with Marinara Sauce

Dessert
Warm Pecan Tart with Vanilla Bean Ice Cream

For more information:
Contact: Raquel Altavilla
Phone: 916.715.5939
Email: raltavilla@comcast.net
Related Document(s):