SEPC March Meeting
Date:
Wednesday, March 28, 2018
Speaker:
Kevin Urbatsch, Esq. - Urbatsch Law Firm P.C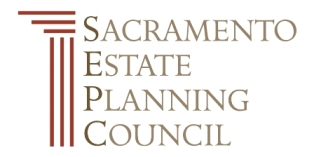 Please adhere to the Sutter Club's Dress Code: Gentlemen guests are encouraged to wear coat and tie. Ladies should wear comparable attire. Jeans, T-shirts, and shorts are never permitted.
2017-2018 Meeting Guide

March Meeting
Sutter Club, California Room
1220 Ninth Street

Agenda:
Registration/Cocktails: 5:00 p.m.
Meeting/Dinner: 5:45 p.m.
Presentation: 6:30 p.m. - 7:30 p.m.

Recent Developments in Special Needs Planning
Speaker: Kevin Urbatsch, Esq. - Urbatsch Law Firm P.C., Pleasant Hill, CA
Special needs planning has been rapidly changing in the past several years. ABLE Accounts, new federal laws, and SSA stepped up enforcement are just a few things. Our speaker will provide updates on all of these topics and more.

Cost
Please note the cost of the monthly SEPC meetings.
Members: $65 (registration at the door is $80)
Non-Members (must be hosted by a member to attend): $80
Drink Tickets: $8 each (PLEASE NOTE THAT IF YOU ARE DRINKING SODA YOU DO NOT NEED TO PURCHASE A DRINK TICKET. THESE ARE COMPLIMENTARY.)
Walk-ins (Members and Non-Members) that have not registered online will be charged $80 (with entrée limited to standard vegetarian option).
Menu
Salad
Baby Spinach with Strawberries, Avocados, Bananas and Honey-Poppy Seed Vinaigrette

Entrees
Pan Roasted Chicken, Wild Mu shrooms and Truffle Sauce
Poached Salmon, Steamed Potato, Asparagus & Watercress Cream
Porcini Mushroom Gnocchi, Wilted Greens, Vegetable-Herb Jus
Dessert
Almond-Raspberry Streusel Cake, White Chocolate Crema & Crushed Raspberry Compote

For more information:
Contact: Raquel Altavilla
Phone: 916.715.5939
Email: raltavilla@comcast.net

Registration will close on Monday, March 26