SEPC April Meeting (Cancelled)
Date:
Wednesday, April 22, 2020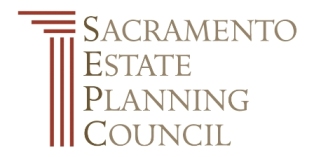 Please adhere to the Sutter Club's Dress Code: Gentlemen guests are encouraged to wear coat and tie. Ladies should wear comparable attire. Jeans, T-shirts, and shorts are never permitted.
April Meeting
Sutter Club, California Room
1220 Ninth Street

Agenda:
Registration/Cocktails: 5:00 p.m.
Meeting/Dinner: 5:45 p.m.
Presentation: 6:30 p.m. - 7:30 p.m.

Effective Handling of Creditor's Claims in Trusts & Estates
Speaker: David D. Little, Senior Associate - Hartog, Baer & Hand - Orinda, CA

Did you know that not all claims against a decedent are barred by the one-year statute of limitations? How should you approach the creditor's claim procedure with illiquid estates or trusts? What happens when creditor files suit on a rejected claim? David D. Little, Senior Attorney with Hartog, Baer & Hand, APC in Orinda, California will answer these and other questions in Trust and Estate administrations. David will discuss the strategic approach to the timing of notice to creditors, how to evaluate claims, resolution of disputes regarding claims, and what happens when there is a suit on a rejected claim.
Cost:
Please note the cost of the monthly SEPC meetings.
Members: $65 (registration at the door is $80)
Non-Members (must be hosted by a member to attend): $80
Drink Tickets: $8 each (PLEASE NOTE THAT IF YOU ARE DRINKING SODA YOU DO NOT NEED TO PURCHASE A DRINK TICKET. THESE ARE COMPLIMENTARY.)
Walk-ins (Members and Non-Members) that have not registered online will be charged $80 (with entrée limited to standard vegetarian option).

For more information:
Contact: Raquel Altavilla
Phone: 916.715.5939
Email: raltavilla@comcast.net

Registration will close on Monday, April 20.
Refund Policy: No refunds after Monday, April 20.