SEPC September Meeting
Date:
Wednesday, September 22, 2021
Location:
Sutter Club (Sacramento Room) and Zoom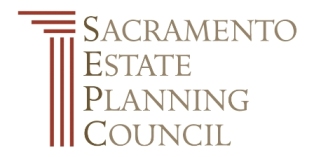 September Meeting

Tax Hot Topics: Finding Gems in Ashes of the Dumpster Fire

Speaker
Paul S Lee, Chief Tax Strategist - Northern Trust

Description
TCJA, COVID-19, and Congress have and will change everything we know as planners. Significant tax code changes are on the horizon. This presentation will discuss straightforward and innovative planning opportunities for families that best take advantage of both the "expiring" and "permanent" provisions of the tax law, with an eye toward anticipated changes to the future planning landscape.
Location (if attending in person)
Sutter Club, Sacramento Room
1220 Ninth Street
Zoom Attendees
Please sign in promptly so you have adequate opportunity to prepare for the meeting at 5:45pm.
Zoom information will be emailed the day before.

Agenda
Registration/Cocktails: 5:00 p.m.
Meeting/Dinner: 5:45 p.m.
Presentation: 6:30 p.m. - 7:30 p.m.

Cost
SEPC Members (Sutter Club): $65

Non-Members (Sutter Club): $80

SEPC Members (Zoom): $25

Non-Members (Zoom): $25
Menu
Salad
Baby Iceberg Wedge applewood smoked bacon, tomatoes, roasted sweet onions & shaft's blue cheese

Entrees
Pan Roasted Mary's Bone-in Chicken Breast with primavera herbed risotto, havarti alfredo & tomato confit
Parmesan Crusted Halibut with caper butter, roasted garlic potato anna, kalamata olive& sundried dried tomato chutney
Roasted Vegetable Risotto with asparagus, cauliflower, caramelized onions, garden peas & parmesan cheese (GF)
Dessert
Seasonal Berries with Ginger Sabayon, Mint & Fresh Whipped Cream

For More Information
Contact: Raquel Altavilla
Phone: 916.715.5939
Email: raltavilla@comcast.net

Nonmembers who wish to attendthis program, you must be hosted by an SEPC member who can register you. If you do not know of an SEPC member, please contact Raquel Altavilla at admin@sacepc.org who can assist you with registering for this meeting.

Please note we have a limited in person capacity for this meeting. There are no walk-ins for this meeting.

Registration will close on Monday, September 20.
Login now to register for this event.
Login now to see a list of event attendees.